PROJECT SEC (SOLAR ENERGY IN CLOSE-UP) SOLAR CUP 2011
The 4th Latvian Solar Cup competition has ended
Results in Latvian

Solar Cup 2011_1

Solar Cup 2011_2

Solar Cup 2011_3

Solar Cup 2011_4

Solar Cup 2011_5

Solar Cup 2011_6

On May 21, ISSP UL with the support of ERDF project "Support for International Cooperation Projects in Science and Technologies" organized Latvian school youth education project SEC: Solar Energy in Close-up. The aim of the SEC project is to educate young people in Latvia by enabling them to design and make their own models of vehicles- cars/boats/aircrafts powered only by solar energy; learn from similar alternative energy publicity events abroad.
The event was attended by nearly a hundred participants from various Latvia's schools (Cēsis, Liepāja, Ikšķile, Jelgava, Mālpils, Jūrmala, Sigulda, Smiltene, Naukšēni, Ogresgals, Priekuļi and several schools and interest centres from Rīga), and from Germany. The competition took place in the following categories: People's Class I (elementary school) and II (secondary school), Master Class I and II, which were divided into separate classes: Power, Speed, Water.
Children had the opportunity to gain the best foreign experience in usage of solar energy, hear a lecture by Jürgen Zick from Kassel University (Germany) on his 10 year experience in organizing the Solar Cup competition in Kassel, and a lecture by Jānis Klepers on foreign experience and recent trends in solar energy collection (thermo-electro battery and solar power collectors, etc.), lecture by Imants Dirba on his experience and practice in the field of electric cars and a presentation of students of the University of Latvia Artūrs Kālis, Jānis Šmits on Sun on Earth – fusion reactors.
The culmination of the event was an award ceremony where the sponsors of the event presented their awards:
ISSP UL, University of Latvia, Latvian Academy of Science, JSC Latvenergo, Latvian Council of Science, Riga Energy Agency, Riga City Council Education and Sports Department, ESF project "Natural Science and Mathematics" of the National Centre for Education, Publishing House Lielvārds, Perpetuum Nova, magazine Ilustrētā Zinātne, Viessmann Ltd., Rigas Piensaimnieks Ltd., L'Oreal, Ministry of Environment.
4th Latvian Solar Cup at the ISSP UL was organized with the support of ERDF project No 2DP/2.1.1.1.2.0./10/APIA/VIAA/010.
Solar Cup 2011 took place May 21, from 9.30 till 16.00 at Institute of Solid State Physics, Ķengaraga street 8.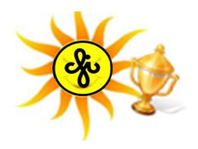 List of participants in Latvian

Solar panels and engines

For questions, contact us:


Saules kauss tika rīkots ar ERAF projekta Nr. 2010/0204/2DP/2.1.1.2.0/10/APIA/VIAA/010 atbalstu