STUDENT DEEP SCIENCE HACKATHON IDEA MARATHON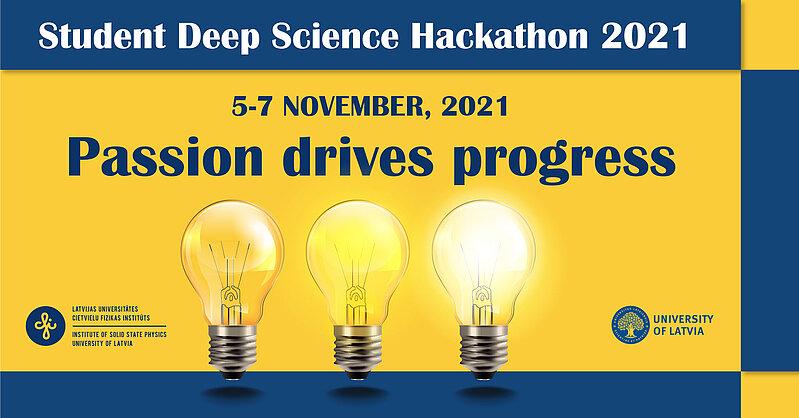 The third Student Deep Science Hackathon took place during the weekend of November 5-7. Motivated and enthusiastic students formed teams, devised new and innovative ideas, and presented commercialization plans in STEAM fields (science, technology, engineering, art, mathematics).
The three-day virtual workshop was organized by the ISSP UL and the Innovation Center of the University of Latvia (LUMIC). During the hackathon, participants were provided with mentor support, an online collaboration environment, and information on commercialization steps.
Within 48 hours, students and mentors worked together to develop new high-tech ideas based on smart solutions, materials, and sustainability. Seven ideas were submitted to the Student Deep Science Hackathon, and six were successfully developed by the end of the event. The teams offered ideas such as applications to improve the freight process and access to rehabilitation and physiotherapy services, a solution to recycle plastic waste resulting in the acquisition of carbon nanotubes, a security solution against bicycle theft, a new keratin extraction method from sheep's wool, and application of mycelium composite material in the fashion industry.
The mentors' team consisted of experts from Technology Accelerator Buildit Latvia, TechHub Riga, and ISSP UL. During the event, participating teams could also use the advice of the invited experts, who gave valuable lectures and told inspiring stories. Business consultant Ģirts Ozoliņš from ISSP UL spoke about the possibilities of commercialization of a scientific idea, Olga Barreto Gonçalves from Latvian Startup Association Startin.LV shared her experience in the startup ecosystem, whereas Madara Kalniņa-Kalnmale from Lightspace Technologies shared her story of going from an idea to a high-tech company.
At the end of the event, the participants presented their work to the jury, which evaluated the teamwork and the achieved results. The jury included representatives from ISSP UL, ISSP UL Foundation, LUMIC, UL Student Business Incubator, and Euro LCDs. The team, which offered the development of a new keratin extraction method from sheep's wool, won first place, the main prize of EUR 2,000, and a special prize from MikroTik. This team will also have the opportunity to participate in the Technology Accelerator Buildit Latvia program and apply for investment.
The hackathon sponsors are the ISSP UL Foundation, GroGlass, MikroTik, and Red Bull. Event contributors - Technology accelerator Bildit Latvia, TechHub Riga community, Latvian Start-up Association Startin.LV, and Lightspace Technologies.
The Hackathon was co-financed by the University of Latvia ERDF project No.1.1.1.3 / 18 / A / 007 "University of Latvia Innovation Grants for Students."