Student Deep Science Hackathon 2022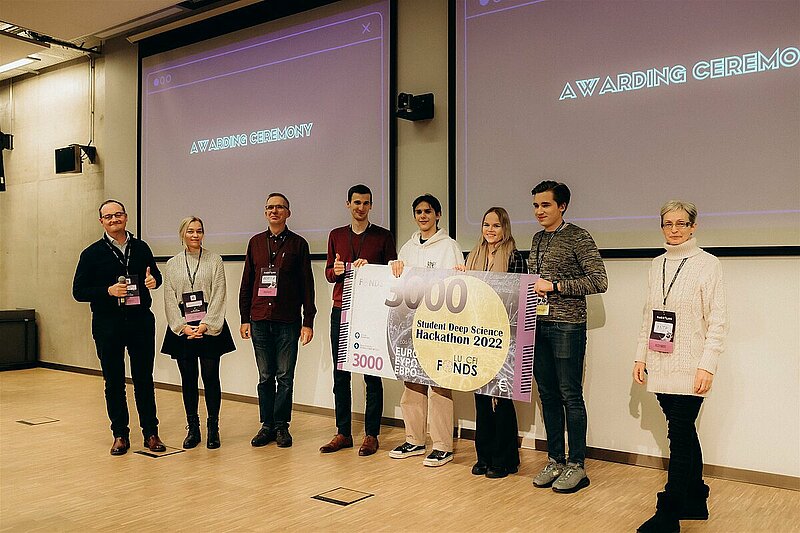 During the weekend of November 25 - 27, the Student Deep Science Hackathon took place for the fourth time. Inspired by the latest technological innovations, the students came up with creative solutions to their ideas and expanded their digital skills. After three great days, the best idea of the Hackathon won a prize of EUR 3000.
The hackathon brings together talented secondary school and university students from various fields every year. A lot gets accomplished within 48 hours by joining forces in a team. The first place and the main prize of EUR 3000 provided by the Foundation of the Institute of Solid State Physics, University of Latvia went to the team "Desal iT" (Aleksejs Bendins and Gunita Paidere from ISSP UL, Eduards Puišis, Matīss Kalniņš) who created an innovative method for the desalination of water - "Water desalination devise". The team "Ash Gaum" won the prize of the hackathon's special sponsor, OX Drive, a Latvian start-up that offers car-sharing using only Tesla electric cars. "The Green Bio Composites" and the "PHOSYS" teams won the ISSP UL's incentive prizes and a field trip to the Institute.
The event concluded with the presentations of the "Energy Tracker" team, whose idea was to develop a sensor-powered wearable technology to monitor an individual's health in real-time, and the NeuroMax idea - kinetic energy transfer modules for early age-related neurodivergence diagnosis and adult anxiety feedback systems based on triboelectric nano-generators. Whereas the "Securify" team presented their idea of a vest that protects police officers from wound infections and alerts emergency medics that a police officer has an injury.
During the hackathon, both beginners and experienced participants were invited to form teams, come up with ideas and turn them into prototypes with the help of technology. Teams could use the help of mentors and participate in various workshops where they could learn a specific skill or technology. During the event, students could discover what else was needed apart from the technology to implement and develop their idea.
Students from various fields were invited to participate in the event to learn about getting from an idea to a solution and to find out what links an idea, technical solution, business development and design together.
The Student Deep Science Hackathon was organized by the ISSP UL, Student Council of the University of Latvia (online community "The Racoons") and the student innovation program "ESI", "TechHub Riga", the Technology Business Center of the LIAA and the Foundation of the ISSP UL. The event was supported by project No 1.1.1.3/18/A/007, "University of Latvia Innovation Grants for Students" activities.